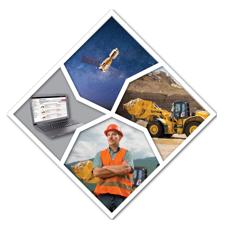 HCMA Global e-Service is the proprietary telematics system for KCM and Hitachi loaders equipped with telematics. This system monitors all machine systems and collects operating data and alerts, which are then transmitted to Equipment Managers, Dealers and factory support staff at HCMA. This system allows for more efficient management of fleets, control of maintenance schedules and notification of alerts that can reduce downtime and operating costs. New account registration will be completed through the Globale-Service system by the Dealer.


AT YOUR SERVICE
Through our long term commitment to maintaining a leadership position in technology, service and support, HCMA supports an extensive network of independent local Dealers focused on providing you with knowledgeable and experienced service and support. KCM and Hitachi Dealers can work with you to develop a Predictive Maintenance Program, customized Maintenance & Repair Program, Extended Warranty Coverage, and provide 24-Hour parts availability to keep your wheel loaders up and running at their peak performance.


SAFETY
The safety benefits are well documented, and with use continue to provide job site managers, equipment managers, and owners with valuable data assisting in creating a safe and productive working environment. We are even seeing savings in insurance premiums based on safe practices monitored through telematics. Company Safety programs are increasingly incorporating telematics as part of their routine safety program.


WHEEL LOADER PRODUCTIVITY — AT A GLANCE
Customize your Global e-Service dashboard by creating widgets, view, and reports based on the information you need, when you need it. Available in US and Metric measurements, and several languages, reports can be customized for local, regional, national, and international levels.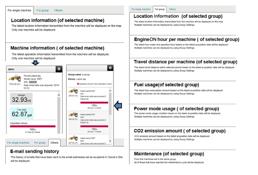 UTILIZATION
From e-mail notices to website reports, utilizing information uploaded to Global e-Service real-time and as a daily recap, it is easy to analyze data at a glance.

KCM Z7 and Hitachi ZW Wheel Loaders use two types of technology to report information gathered through the IntelliTech system. In most locations the GSM (Cellular) Service, will provide proper service. However, in extreme remote locations the GPS (Satellite) Service will be required. Both of these services are available on all Z7 or ZW loaders.


REALTIME REPORTING
Once data is relayed to Global e-Service there are several ways to retrieve this information. A variety of reports are easily downloaded to Excel, or stored on the HCMA Global e-Service web site for access 24/7. Reports and Urgent Alarm Notifications can be sent to e-mail addresses on site, regionally, nationally, or internationally, allowing personnel in different locations, and in different positions within an organization to be notified at once.


CONSITE

(New)


ConSite links the customer and construction site. It closely monitors the entire operation status of your machine to improve its overall performance and increase machine's availability and efficiency. ConSite provides automated data report service of a working record every month in-time via e-mail. In case of machine problems, ConSite can detect the urgency of information by using its intelligent filtering system and then report to you immediately. ConSite has two advance reporting systems to visualize the operation status of your machine. Using mobile or satellite telematics, you can automatically receive a monthly report and alarm notification report transmitted via email in a timely manner into your various devices e.g desktop computers, laptops, smartphones and tablets.